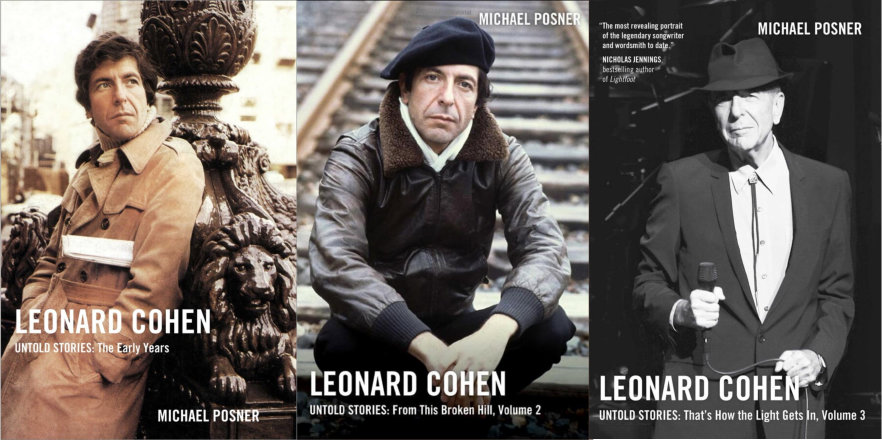 "...a magnificent portrait of how human friendship and amity surrounds all of us..."
This second volume of Posner's masterly life of Leonard Cohen reveals to the reader the emotional psychodynamics that encompassed the creation of some of the Twentieth Century's finest lyric poetry. The author's unique documentary style of writing delivers wonderful veracity and verve to the narrative. Leonard is portrayed—via the unusual medium of rapportage, which is akin to cinéma verité—as a poet who worked in the genre of the mediaeval troubadour, one whose mimetic passion and impetus were driven by an essential and repetitive experience of the feminine. Yet there is a constant tone of intimate desperation in these vivid accounts, of human consciousness struggling to be free of its natural emptiness. Leonard's singular ability was to transform his mortal ordeal into a vital agency where genius was sometimes achieved. This book tells of that intoxication, the compulsive sexuality and mysticism that impelled the poetry of the songs, and it reveals some of the beliefs that informed his endless performance. It is also a magnificent portrait of how human friendship and amity surrounds all of us, without relent. Posner is a gifted biographer and this perfectly deliberative book—The Ballad of Leonard Cohen—is an accomplished work of literary expertise, research, and devotion.
—Kevin McGrath
Kevin McGrath is an Associate of the Department of South Asian Studies at Harvard University. His research centers on the Sanskrit epic Mahabharata; he has published six works on this topic, The Sanskrit Hero, Stri, Jaya, Heroic Krsna, Arjuna Pandava, and Raja Yudhisthira (forthcoming). and is presently concluding a study of the authoritative hero Bhisma.
An Excerpt from CHAPTER ONE, Vol. 2
Everyone Started Being in Pain
Leonard approached each moment as an act to be shaped. His life is an art form. —Jennifer Warnes
Leonard was always searching. Robert Hershorn and George Lialios were the people he searched with for a while. Then Roshi. Then Ramesh Balsekar. Leonard never stopped looking. —Barrie Wexler
It was January 1971. Five years earlier, Leonard Cohen had insisted that he could make something of himself in music, while continuing to be a poet. Virtually everyone—friends, family—thought he was delusional. On paper, he had been vindicated. Two albums had been released, making him a rising star in Europe, if not in North America, and he was at work on a fifth volume of poetry. His personal life, however, was beginning to unravel. Less than two years after settling in with Suzanne Elrod, he was beginning to feel trapped. That month, Cohen asked his friend Barbara Dodge to drive his car, "a crappy little Volkswagen," to Miami from Montreal. Dodge had been living in Cohen's St.-Dominique Street house.
BARBARA DODGE: He gave me the keys one night and said, "Stay in the house while we're gone." I'd paid no rent. I was there about six months. I became a close, trusted friend because I did no drugs. In Miami, Dodge stayed with Elrod and her family, in what she called "a typical suburban house in the heart of the city."
Cohen himself had rented a houseboat.
BARBARA DODGE: It was disgusting. Gaudy, ersatz. It had creepy, fake leopard-skin furniture and purple hues. He was so spaced out. I'm sure he was on a lot of quaaludes. Really out of it. They were taking a ton of that stuff. Suzanne and I would visit.
The Elrod family home might have been a Godfather film set.
BARBARA DODGE: The food was driven over from the Fontainebleau Hotel, an insane amount of food. [The hotel was effectively mobowned.] Suzanne's uncle, her father figure, worked for Meyer Lansky. There was a lot of security around—I was followed everywhere—a lot of whisper, whisper, and dizzy, blond babes with heavy New Jersey accents, dumb as cows; cute, petite women. I think one of them was her aunt, a former dancer from the Rockettes, dyed blond, gangster moll type. [Lansky himself had fled to Israel, but was likely concerned about threats to his subordinates.] The quintessential badass family with a dumb mother. The uncle was in a hospital bed with oxygen tanks and people fluttering around him. So it was clear to me she wasn't "Suzanne"—she was Susan from Miami, and the biography was a little off. She had big, bushy eyebrows. When I met her, she struck me as being totally naive, like a country girl. She's so lucky she met Leonard.
SANDRA ANDERSON: In her twenties, to please Leonard and to look more prepubescent, Suzanne underwent a painful and prolonged series of electrolysis sessions to remove all of her bodily hair.
As they had earlier, Cohen and Elrod continued to proposition Dodge.
BARBARA DODGE: They wanted to have sex with me. I told them, "You've got the wrong person." They were doing all kinds of drugs that would make things kinky. But I had an intimate—not physically—emotional relationship with them. Once he realized he's not going to get me—and he tried hard—he was like a brother to me.
One day, Elrod asked Dodge to drive her to another house.
BARBARA DODGE: She was in there about an hour. A Waspy surfer guy, very good looking. I believed she had an assignation, which indicated she'd have assignations with any number of guys. Years later, I told Leonard and he was really upset. I also think she was purchasing drugs for Leonard. He was using a lot of drugs and she was buying them.
It was during that Miami trip—in a Polynesian restaurant, sipping what he called a "particularly lethal and sinister coconut drink"—that Cohen began writing "Chelsea Hotel," on a cocktail napkin. Returning to Montreal, the couple rented a one-bedroom flat on Crescent Street, in the city's hippest neighbourhood. At the nearby Friar's Pub, Cohen occasionally stopped to sample local bands, including St. Marc Street. In time, he befriended its teenage drummer, Earl Gordon. It was only a moment in Gordon's life, but, characteristically, Cohen left a strong impression.
EARL GORDON: I'd go up twice a week, hang out and smoke a little. But I'd have to keep running down to play [the next set]. Sometimes, we talked philosophy, Dylan, the Beatles—everything. He was really very deep, a thinker. Leonard, the Jewish Thinker. And he was smart enough to know my limitations. Sometimes, I'd walk out of there and go, "What the fuck?" But I was eighteen or nineteen. When we started talking, I didn't even know who he was. I just thought he was a nice guy. He and Suzanne wore black all the time, a Gothic look. It was like being in a club. She was always there, always in black, long black hair, gorgeous. He had a camel hair coat he wore a lot. They were into each other, big time. One day, I hear "Suzanne" by Leonard Cohen. I thought, "Oh, look, he wrote a song about his girlfriend." I only found out about the other Suzanne later. Musically, it wasn't for me. So our relationship had nothing to do with who he was. I think he even liked the fact that I didn't know who he was. And every single time we got together, he was up. I never saw him depressed.
BARRIE WEXLER: Most people didn't realize it, but they were seeing the B-side of what used to be called manic depression, now bipolar disorder. I saw the A-side fairly often when we were alone, and sometimes when Suzanne was present. I didn't really appreciate then that he was allowing me to witness this crippling interior landscape that he shielded from public view.
STEVE MACHAT: Right now, I'm walking around Miami. I would tell you it's partly sunny. Leonard Cohen would tell you it's partly cloudy.
MICHAEL HARRIS: I've been dealing with poets for fifty years. Welcome to the club on depression.
BUNNY FREIDUS: I didn't recognize it at the time, but there was a sensitivity—something. You'd hear it in the songs, anyway. I thought it was his being a sensitive soul. I didn't know to call it depression.
EARL GORDON: He said, "Come up any time you want when I'm around." But for weeks, there'd be nobody there. We only sat in the living room. It was as dark as he was. Everything was black. He loved black. I'd come back after two weeks and he'd be in the same clothes. I said, "How long are you going to sit shiva?" Another time, I said to him, "You never have to worry about what you're going to wear the next day, do you?" He liked the jokes.
BARRIE WEXLER: Cohen went through costume periods like Picasso did painting styles—from all black to a field marshal look, to meditation garb, to his grey suits and fedoras. But there's a deeper significance here. His consistent dress, his use of the same salutations for greetings and departures—"See you later, friends"—the unadorned homes—these were all reflections of his effort to keep his life, like his words on the page, small and contained. I once asked him what led to his typewriter-like print. He said his handwriting had deteriorated and become illegible. But it became another uniform. Leonard was very studied. In interviews, you see the same lines again and again. This was also true in conversation. I'm not saying he wasn't spontaneous and funny—he was. But those were off-the-top quips compared to the body of his narrative. He communicated as he wrote, carefully, after much consideration. He dug down until he got to what he wanted to say, then internalized it and made it part of his vernacular.
In Montreal, the circle around Cohen often gravitated to the Rainbow Bar and Grill on Stanley Street, co-owned and managed by Vivienne Leebosh.
VIVIENNE LEEBOSH: Everybody hung out there. I paid the cops off so that people could deal drugs. There were about ten owners, draft dodgers and deserters. Freda Guttman and I were housing them. We took out ads in favour of [Quebec] separatism. No one in the Jewish community would talk to us.
Not everyone surrendered to Cohen's magnetism.
SYLVIA LEVINE: There was a circuit: the Bistro, the Boiler Room, the Rainbow; later, Grumpy's. I first noticed Leonard in—it might have been the Rainbow—and asked who that was. The man was posturing, clearly self-conscious, dressed in black, showing his "good" side, as though waiting to be recognized. "That's Leonard Cohen," someone said, "trying to look brooding and artistic." "Suzanne" had already been a hit, but everyone there was "somebody," or going to be "somebody," or had been "somebody." So attitude was parked at the door and everybody talked to everybody. Not him. I remember saying hello—he turned away as though this had been a giant intrusion. Anyway, the tendency was to despise "Suzanne" for being monotonal, pretentious, and self-consciously depressive, so he was no star there. It was generally thought he was a "rich kid" who had moved to Centreville to be hip.
In March 1971, Cohen returned to Nashville to complete work on Songs of Love and Hate. Released that month, the album, he later said, was "over-produced and overelaborated . . . an experiment that failed." One day, he took a call from Robert Altman. The Hollywood director had finished shooting McCabe & Mrs. Miller, and gone to Europe to unwind. Altman already knew and loved Cohen's first album. He played it again in Paris.
ROBERT ALTMAN: When I heard it again, I thought, "God, that's the music [I want]." Subconsciously, that must have been in my head. Warner Bros. said, "He's under contract to Columbia. You'll never get the rights." So I called Leonard and said, "Hi, this is Bob Altman." He goes, "You're kidding! Honey, you'll never guess who's on the phone." I told him my problem and he said, "Don't worry, we'll work it out." It's that kind of spirit that is so lacking in the industry. Cohen subsequently met and befriended Altman. He visited his film sets and, at one point, travelled to Mexico with him. He also arranged for Columbia to license three tracks—"The Stranger Song,""Sisters of Mercy," and "Winter Lady"—for a modest fee.
However, when Cohen watched a rough cut of Altman's film in New York, he didn't like it.
ROBERT ALTMAN: My heart just sank. I really just collapsed. And he said, "But I'll live up to my bargain." Cohen then recorded additional guitar work needed for the film. A year later, he called Altman to tell him he'd seen the film again and loved it. That, Altman said, "was the best thing that happened to me."
With the album locked, Cohen and Elrod went to Hydra in May. Soon after, George Lialios introduced him to Charmaine Dunn, a Toronto model working in the UK. Their romance would begin in a few months and ultimately become a lifelong friendship. The next month, to mark Barrie Wexler's twenty-first birthday, Cohen and Elrod took him to dinner. Another night, a party was organized in his honour.
BARRIE WEXLER: In his kitchen, before we went, he gave me a poem on Chinese joss paper and said, in his ceremonious way of speaking, "You didn't think I'd let this purest of occasions pass unnoticed, did you?" It was later published in The Energy of Slaves. Half the expatriate community was at the party, many of them because they'd been told Cohen would likely show up.
By 1971, as stories of Hydra's sybaritic lifestyle circulated, hordes of young people began to arrive. That summer, Cohen met two young Montrealers over whom he would come to exercise influence—aspiring singer-songwriter Brandon "Brandy" Ayre, and painter and architect Charlie Gurd. Ayre had actually gone to Hydra to meet him in 1969—Cohen was away—regarding him as "the English poet laureate of Montreal, the crown prince."
CHARLIE GURD: Leonard was pleased to meet younger females, especially. He was generous with us fellow Montrealers. I was amazed by his tan. He was, of course, working full tilt. We liked one another immediately—I thought. Visits to his house every week or so became the norm.
Discretely, Cohen resumed a romance begun the previous year with Darlene Holt, from California.
DARLENE HOLT: He had a little rowboat he'd take me out on. He invited me to his house for dinner. Our relationship was intermittent. Where I was staying, there was a terrace off the bedroom and Leonard would come through the window and say, "Your pirate has arrived." He would bounce around emotionally. He was always kind of melancholy, but there were times when he seemed very depressed. Still, it was a lighthearted relationship.
The American artists, Brice and Helen Marden, arrived that summer.
HELEN MARDEN: I'd come the previous year. I was going to see Phyllis Major on Spetses and noticed that all the good-looking people got off at Hydra. So she and I went to Hydra. She was very, very beautiful. The second night, she went to meet Leonard. But they knew each other earlier. When she killed herself [in 1976], it was horrible. Drugs were an ongoing concern.
BARBARA DODGE: Brice was Suzanne's lover on Hydra. She told me all about it.
HELEN MARDEN: For years, Brice made me promise I'd never have an affair with Leonard. And I didn't. I wouldn't. Leonard would joke about it: "Maybe one night in a dark alley." I said, "I don't think so." Brice and I did split up briefly and I had different boyfriends, and Leonard said, "Put the children down gently when you're through." He was always teasing me.
An aspiring Welsh poet, Morgana Pritchard, arrived with beat poet Gregory Corso. She ended up staying eighteen months, painting to earn a living.
MORGANA PRITCHARD: Marianne [Ihlen] and I had the same birthday. We really connected. She invited me to stay with her. It was a romp of a summer. [Folksinger] David Blue was there and David Jove [né Sniderman, a Canadian underground filmmaker]. There was a softball game—poets versus musicians. Leonard played for the poets. The musicians won, I think. Leonard didn't come for very long. He was busy with something. One day, I got picked up by the police for nude sunbathing, and it was Leonard who got me out. Marcia Pacaud [former girlfriend of Cohen's friend Morton Rosengarten] was visiting Marianne. We all got together. I said it was "a gathering of the muses. Once a muse, always amused." Marianne said, "I'm using that."
A way station for trekkers en route to India, the hilltop mansion of George Lialios became party central. One evening, a troupe of Indian musicians entertained in the ballroom; another night, on the terrace, a Boston Symphony string quartet, followed by Cohen singing, "Bird on a Wire." On Hydra, Cohen and his friend Pandias Scaramanga taught Ihlen's son, Axel Jensen, how to play chess.
MORGANA PRITCHARD: Axel was brilliant. He beat me all the time. But Axel was a difficult kid. He was all over the place. I wrote a poem for him. Leonard loved it. "Axel sits in chair with a straight spine. . . . He has straight hair but a naturally curly mind."
BARRIE WEXLER: Axel's game was quite good, though predictable. He'd concentrate his pieces on the opposing king, the way youngsters play soccer, swarming the ball. I tried to show him how to feign more, and trade less, until strategically advantageous. Cohen and I only played once. He didn't really want to play. Somehow, I talked him into it. After we set up the pieces, he said, "You know, Barrie, anyone can beat me." The next thing he said, was about twenty moves later—"Checkmate."
Still only partly renovated, Cohen's house, Gurd recalls, was mostly of the nineteenth-century humble "Sea Captain" style.
CHARLIE GURD: The basement [was] a playground of tarantulas and centipedes. There was a low table in the writing room, pictured on the Songs from a Room album cover, across the hall from the kitchen, that had artifacts and gifts from fans. The doors to the interior rooms were hand-painted by Anthony Kingsmill.
CAROL ANN BERNHEIM: There are no windows at his house with a view, so Leonard had scenes painted on cupboard doors that depicted various " window" views and seascapes. These were painted by Tony Powell, a sailor and artist. He also built a fireplace. In his early twenties, he'd been part of the group that liberated Bergen-Belsen.
VALERIE LLOYD SIDAWAY: Marianne also made many repairs. She turned a dark basement room into a spacious living area, with a raised platform—later used as a stage for a theatre party Suzanne threw.
Anthony Kingsmill—the adopted son of British writer and critic Hugh Kingsmill Lunn—eventually became Cohen's closest island friend, supplanting George Lialios.
BARRIE WEXLER: He became his new sparring partner, and remained so until his death. Anthony was at the house all the time, as Lialios had been. If Cohen could spend time with anybody, Anthony would be first in line. He had an acerbic wit that Cohen loved, and was a wonderful raconteur. Their banter was a thing to behold. When it came to repartee, Kingsmill left Cohen in the dust. My own raillery with Leonard is probably the thing I miss about him most, even though I ended up with dust all over me, in turn.
CHARLIE GURD: Anthony had a law—no whistling to opera when a record was playing. Very serious. He had a big influence on Leonard, expanding his knowledge of literature and art. Anthony was a powerful character, a great friend, but an outrageous drunk.
DON LOWE: What a mind he had, Anthony. He pissed it away. Drink— the English sickness. Leonard drank, but he wasn't a drunkard. He could hold it all.
BARRIE WEXLER: Everybody drank. Leonard was drunk any number of times, but always sweetly so, a little tipsy. He had internal discipline, which Anthony wasn't able to exercise.
HELEN MARDEN: Leonard used to say, "There was that great half hour before Anthony got drunk when he was hilariously funny." He was quick. Sometimes my ears would hurt, laughing at the two of them.
KEVIN MCGRATH: That was Leonard's real pareia, his cohort—Anthony, Bill Cunliffe, Bill's wife Eleni, Alexis, and Pandias. He also took a lot of trips with George Lialios—LSD trips.
One night, Cohen, Wexler, and Kingsmill enjoyed a dinner at Taverna Lulus.
BARRIE WEXLER: At one point, the tourists started dancing the sirtaki. They tried to draw us into the circle. Cohen and Kingsmill refused, but insisted that one of us had to save the honour of our table. So I joined the circle. Everything went smoothly until I sidestepped instead of crossing, accidentally tripping the woman next to me. The entire circle collapsed like dominoes. I was the only one left standing. Cohen and Kingsmill gallantly sprang to their feet to help the bewildered woman off the floor, while pretending not to know me.
Kingsmill had another vice—gambling.
ALEXIS BOLENS: Anthony and Pandias Scaramanga were regulars at the poker games. Leonard never came to play, not once. People think he did, but it's just not true.
BARRIE WEXLER: Cohen did occasionally play, but in Anthony's or Pandias's friendlier, low-stakes games.
ALEXIS BOLENS: Pandias came with a certain amount, and if he lost it, he quit. Anthony, on the other hand, loved to play, but had no money. We made a deal. I gave him ten thousand dollars in chips against three of his landscapes—if he lost the money, I'd get the paintings. It kept him at the table for a year, but, in the end, I got the paintings, which killed him. He hated to part with his work.
BARRIE WEXLER: Leonard and Pandias both gave Anthony advances for paintings he never finished. They jokingly complained that they'd paid for the same painting several times when you added up the advances. In fact, Cohen thought they unknowingly advanced money for the same paintings.
DON LOWE: Anthony never had money. But when he left Hydra and was in the port shopping, I said to Leonard, "Where's he getting the money?" And he said, "I don't know, but I notice the painting [he gave me] is gone from the kitchen."
BARRIE WEXLER: True. Anthony took a painting he'd sold to Leonard, while he was away, and resold it to someone else.
VALERIE LLOYD SIDAWAY: It was a very fine oil painting—a view of Kamini. In dire need of money, he was asked by a keen buyer if he had a painting to sell. The only one that came to mind was the one at Leonard's house. So he sold it again, to this new buyer. Leonard was probably annoyed and disappointed, but it did not hinder their relationship.
On Hydra, Cohen's posse of disciples saw him with different masks.
BRANDON AYRE: I wrote a song for Anthony's wife, Christina, and played it for Leonard. And Leonard had a way of telling you when he didn't like something. He'd just look at you, and look at you, and say nothing.
BARRIE WEXLER: I could often tell he thought I could do better, but he wouldn't criticize my efforts outright. If I pressed, which I did, he'd indicate how the writing could be improved—usually with just a few words. Once, instead of commenting, he put a country and western song on his record player—"Long Black Limousine." It's about a girl who leaves a small town to make it big, telling people she'll be back one day in a long black limousine. As he sang along, he emphasized the part where she returned home, but in a hearse. The lesson had to do with switching something back on itself. That's how he taught.
CHARLIE GURD: Leonard was always helpful—a teacher. But he deferred from giving advice. He had a demeanour I well knew from Westmount, somewhat formal, kind of Edwardian, old-world WASP, as much as anything. We got into an ongoing discussion about Eastern philosophy. He suggested I study with Chögyam Trungpa Rinpoche at Eskdalemuir in Scotland, which I did. He introduced me to zazen, Rinzai Zen meditation, with seriousness. But as always with him, a sense of humour, laughing at oneself in the context of the whole. He usually looked for the humour of the moment, and maybe believed humour was a mainstay of the creative process. Lightening up was for him part of an enlightenment.
BRANDON AYRE: The first time I played him a song, we were on his terrace. A song I'd just written, "Ace of Hearts." At the end, he looked up and said, "That's beautiful. Did you write that?" . . . " Yeah." . . . " Play me another, man." That was the pinnacle of my career. He liked my work. Jesus Christ—Leonard Cohen liked my work.
BARRIE WEXLER: When he listened to music, he'd turn his head slightly, remain still, and stare off into middle space. It wasn't disinterest. It was how he concentrated.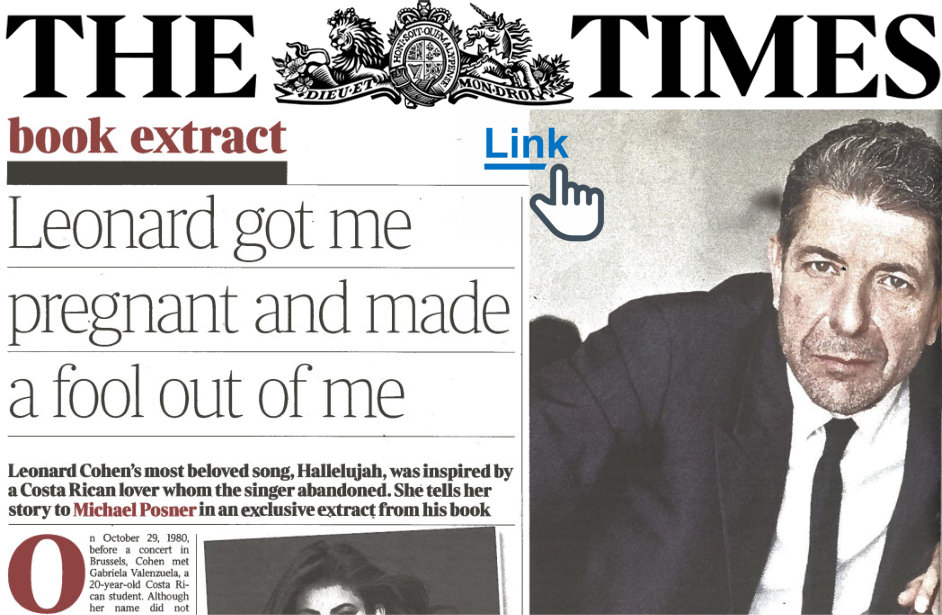 About the Book
The extraordinary life of one of the world's greatest music and literary icons, in the words of those who knew him best.
Poet, novelist, singer-songwriter, artist, prophet, icon—there has never been a figure like Leonard Cohen. He was a true giant in contemporary western culture, entertaining and inspiring people everywhere with his work. From his groundbreaking and bestselling novels, The Favourite Game and Beautiful Losers, to timeless songs such as "Suzanne," "Dance Me to the End of Love," and "Hallelujah," Cohen is a cherished artist. His death in 2016 was felt around the world by the many fans and followers who would miss his warmth, humour, intellect, and piercing insights.
Leonard Cohen, Untold Stories chronicles the full breadth of his extraordinary life. The first of three volumes—The Early Years—follows him from his boyhood in Montreal to university, and his burgeoning literary career to the world of music, culminating with his first international tour in 1970.
Through the voices of those who knew him best—family and friends, colleagues and contemporaries, rivals, business partners, and his many lovers—the book probes deeply into both Cohen's public and private life. It also paints a portrait of an era, the social, cultural, and political revolutions that shook the 1960s.
In this revealing and entertaining first volume, bestselling author and biographer Michael Posner draws on hundreds of interviews to reach beyond the Cohen of myth and reveal the unique, complex, and compelling figure of the real man.
Reviews and Profiles

A review of books by Gordon Phinn

The Various Positions of Leonard Cohen

Volume 2 of Leonard Cohen's biography chronicles his stormy love life, career takeoff

Not everybody knows: Fresh Leonard Cohen stories illuminate a complex troubadour

'Westmount was kind of a beacon for him': Leonard Cohen's early years told through the hundreds of voices in new book

The 20 books you need to read this winter



Leonard Cohen Untold Stories: The Early Years


Fifteen music books that struck a chord in 2020

The life and music of Leonard Cohen

Leonard Cohen and Robert Fulford, An Essay by Gordon Phinn

5 books for music lovers to read ahead of the Grammy Awards

Interview: Beaconsfield Podcast, June 1, 2022
Interview: Centre for Jewish Studies, York University, Feb. 7, 2021
Interview: Banyen Books & Sound, Jan. 18, 2021
Interview: TVO, The Agenda with Steve Paiken, Dec. 14, 2020
Interview: Wordfest with Shelley Youngblut, Nov. 19, 2020
Interview: Not That Kind of Rabbi with Ralph Benmergui, Oct. 29, 2020
Interview: PRISM International—Contemporary Writing from Canada and the World
Take the Leonard Quiz
1. What was the name of Leonard's dog during his childhood?
Tinkie or Tovarich
2. What was the name of Leonard's brother-in-law?
Victor Cohen
3. What was the name of Leonard's first published book of poetry?
Let Us Compare Mythologies
4. What was the title of Leonard's first (unpublished) novel?
A Ballet For Lepers
5. Who was Leonard's first professional manager?
Mary Martin
6. What Canadian band first performed Leonard's song, Suzanne?
The Stormy Clovers
7. How much did Leonard spend to buy his Hydra home in September 1960?
$1,500
8. What is the first name of Marianne Ihlen Jensen's first husband?
Axel
9. Which poet is credited as having ignited Leonard's interest in poetry?
9. Lorca
10. In his novel, The Favourite Game, the character of Krantz is based on which real-life Leonard friend?
Morton Rosengarten
<!!-- #quiz -->